21st Year Church Anniversary
Yes, that is correct. Harvest Celebration Evangelistic Church will be 21 Years old on Sunday, April 18, 2021.
WOW!
Beyond that, we have been so busy trying to resume in-person worship and Easter Celebrations that we FORGOT about the Anniversary. While we are not having a "special" service with guests and all, we hope to see as many of the Harvest members and friends for a day of praise and thanksgiving.
The link to register is below.
Register for the Service at the following link:
https://rsvp.church/r/sB91xpoi
STANDARDS FOR IN-PERSON WORSHIP
FaceMasks & Temperature Check REQUIRED
All seats must be reserved. To maintain the distancing standard, a reservation is required.
Seating will be designated for each group to ensure that everyone is seated at least 6 feet apart.
If you are not feeling well, have been exposed to COVID within the last 14 days, or have not been cleared with a POSITIVE test since testing NEGATIVE, please do not attend at this time.
JOSEPH HARRIS (Father of Mary McClendon and Deborah Bland) | 04/15/2021 | Bereavement Prayer Request
From Mary McClendon: "Dad has transitioned to be with the Lord. Pray for our family. 04.15.2021 • 5:27 AM. My father's name is Joseph Harris." Let's pray for both Mary McClendon's and Deborah Bland.
Services are Saturday, April 24 at 11:00 AM at Triumph the Church and Kingdom of God in Christ on 5302 Queen Mary Lane (at Flag Chapel).
Chaplain/Pastor Doris Whitaker | CNBC News Report | One of Our Champions
On the frontlines of the pandemic, it's not just doctors, nurses, and other health care heroes bringing comfort or hope to patients and families. For more than a year, UMMC Chaplin Doris Whitaker, and others like her, have delivered messages of comfort to patients with COVID – some in their final moments. Join Doris as she shares meaningful moments with Medical Center patients in this segment from NBC News reporter Ellison Barber. Check out the video on Facebook.
https://www.facebook.com/ummcnews/videos/791511405111092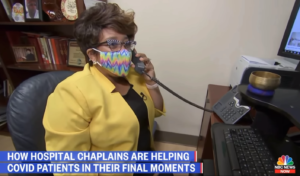 Jackson District Meeting | In-Person & Online | April 27-29, 2021
The Jackson District Conference will convene on Tuesday through Thursday Night, April 27-29, 2021. It
will be held at St. Paul COGIC, 3328 Oak Forest Drive, Jackson, Mississippi 39212.
Tuesday Night, April 27, 2021, is Music & Youth Night.
Wednesday Night, April 28, 2021, is Women's Night.
Thursday Night, April 29, 2019, is Official Night.